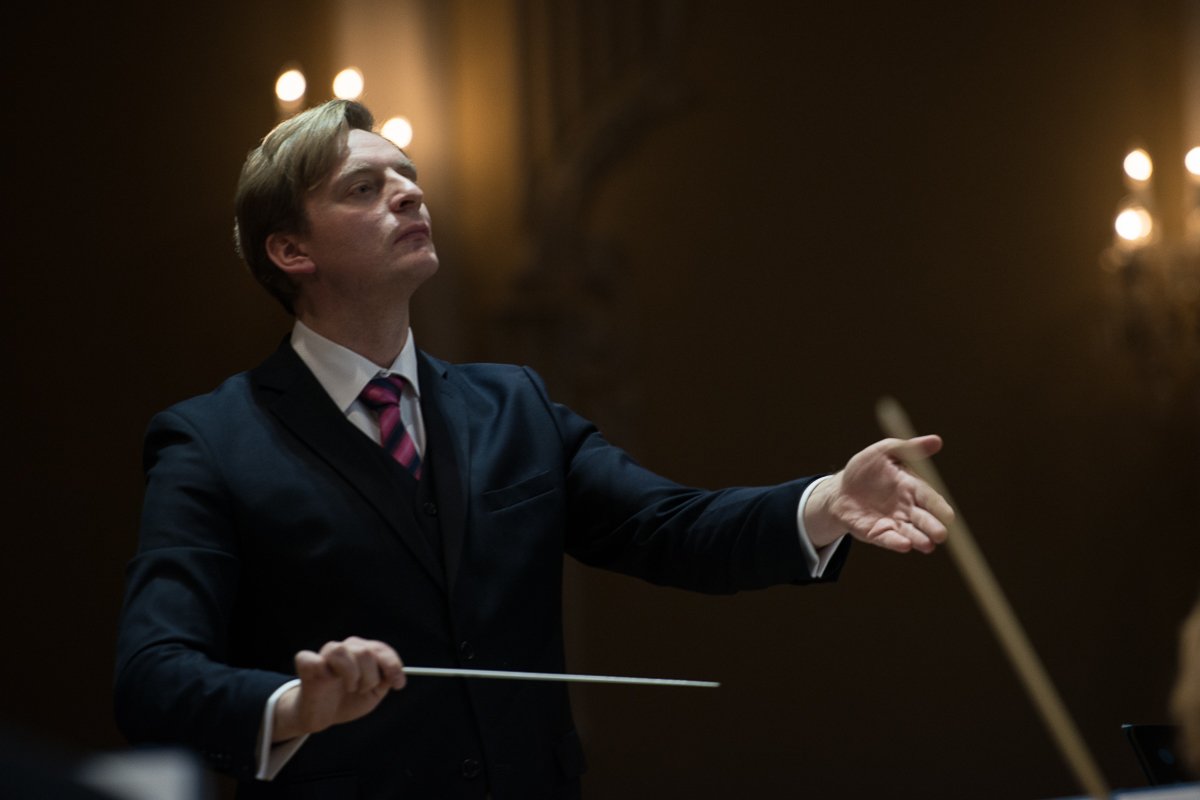 After winning the First prize at the 9th Jeunesses Musicales Conducting Competition in Bucharest in August 2018 Anton Shaburov is considered to be one of the most promising young Russian conductors.
Other competition successes include the First prize at the 2016 Felix Mendelssohn International Conducting Competition and Grand Prix together with the special audience award at the 2013 Ilya Musin all-Russian Conducting Competition.
In August 2021 Anton Shaburov became a principal conductor and artistic director of the Rostov Symphony Orchestra (Rostov-on-Don, Russia). In 2019 Tirgu-Mures Philharmonic orchestra (Tirgu-Mures, Romania) elected Anton Shaburov as its principal guest conductor. Since 2017 Anton Shaburov also holds the position of a permanent guest conductor of the Mariinsky Theatre (Primorsky Stage, Vladivostok, Russia).
As a guest conductor, Anton Shaburov performed with the Mariinsky Symphony Orchestra in St. Petersburg, Moscow Philharmonic Orchestra, Moscow State Symphony Orchestra, Tchaikovsky Symphony Orchestra (Moscow Radio Symphony Orchestra). George Enescu Philharmonic Orchestra, MAV Symphony Orchestra in Budapest, Kodaly Philharmonic Orchestra in Debrecen, I Solisti Aquilani Chamber Orchestra, Plovdiv Philharmonic Orchestra, City of Thessaloniki Symphony Orchestra, Iasi Philharmonic Orchestra, Philharmonic Orchestra of Sibiu, Heilongjiang Symphony Orchestra in Harbin, Ural Youth Symphony Orchestra in Yekaterinburg, Nizhny Novgorod Philharmonic orchestra and Tatarstan State Symphony Orchestra in Kazan among the others. In 2018 Anton Shaburov took part in the Valery Gergiev's International Mariinsky Far East Festival in Vladivostok and Yuri Bashmet's Festival in Khabarovsk.
In 2017-2020 Anton Shaburov held the position of the chief conductor and artistic director of the Far Eastern Symphony Orchestra (Khabarovsk, Russia). During his work in Khabarovsk, Anton Shaburov managed to enrich the orchestra repertoire with pieces by Paul Hindemith, Heitor Villa-Lobos, Walter Piston, Alfred Schnittke, Nikolai Tcherepnin, Vladislav Zolotaryov. Anton Shaburov led a highly successful performance of the Far Eastern Symphony Orchestra at the V all-Russian Symphonic Forum in Yekaterinburg in September 2018.
Anton Shaburov received his musical education in two major Russian music institutions - the Ural State Mussorgsky Conservatory and the Moscow State Tchaikovsky Conservatory. In Moscow, he studied conducting with the legendary professor Gennady Rozhdestvensky.
Starting his professional conducting career as a Principal conductor and artistic director of the Symphony orchestra of the Ural Conservatory Anton Shaburov led more than 50 concert programs and several festivals dedicated to Rachmaninov, Liszt, Tchaikovsky, Shchedrin, and Zolotaryov. In August 2016 Symphony orchestra of the Ural Conservatory under the baton of Anton Shaburov faced its highest triumph in the Konzerthaus Berlin at the Young Euro Classic 2016 festival. The performance of the all-Russian program had notable success and was also very warmly met by the German and Russian musical press.
Anton Shaburov shared the stage with Yuri Bashmet, Alexandr Knyazev, Alexandr Ghindin, Boris Andrianov, Nikita Boriso-Glebsky, Sergei Dogadin, and Veronika Dzhioeva among the others. Paying much attention to contemporary music Anton Shaburov regularly performs pieces of living composers. He led world premieres of Mikhael Tariverdiev's Second Violin Concerto, Leonid Klinichev's Symphony No.3 as well as pieces by Olga Viktorova, Yuri Abdokov, and Elvira Muratore.