Hungarian National Symphony Orchestra Szeged
The history of the Szeged Symphony Orchestra began in the 18th century. As a symphonic orchestra, it has been performing under various names from the end of the 19th century. For a decade, from 1933 to 1943, the young conductor Ferenc Fricsay was its music director. During this time, great artists such as Willem Mengelberg, Erich Kleiber and Pietro Mascagni appeared on the podium.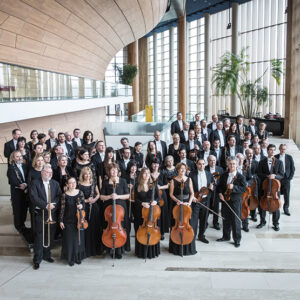 In 1969, the famous composer and conductor Viktor Vaszy turned the ensemble to an independent organization to perform under the name Szeged Symphony Orchestra. This is the basis of the opera performances of the second largest opera institution of Hungary, the Szeged National Theatre.
After the founding conductor, the Szeged Symphony Orchestra was led by Tamás Pál (1975-1983), Géza Oberfrank (1983-1989), Tamás Pál again (1989-1991) and Ervin Acél (1991-1999).

In 2008, Sándor Gyüdi, who conducted the orchestra from 1999 to 2008, became general director of the Szeged National Theatre. Gyüdi has been the leading conductor and the artistic director of the orchestra since 2013.
The Szeged Symphony Orchestra cooperated with guest artists such as János Fürst, Tamás Vető, Lukács Ervin and many others.
The orchestra is based in the Korzó Zeneház, which was established in 2007 in the Zsótér House on Széchenyi Square in Szeged.
Awards: Dömötör Award: the best artistic performance of the year (2016).